Photographic Transformations:
Light Box Series
In the twentieth century, the utilization of photographic collage has been championed by a wide array of artists. Early modernists who employed this technique included Max Ernst, Paul Citroen, El Lissitzky, Lazlo Moholy-Nagy, Christian Shad, Dora Maar, Herbert Bayer, John Heartfield, and Erwin Blumenfeld. Contemporary artists that have used it include Jerry Uelsmann, John Baldessari, Jan Saudek, David Hockney, and Jane Hammond.
Peter Milton is a distinguished American artist, who, in the past, has devoted himself to drawing and printmaking. In his art, however, photography and the collaging of photographic images has always been a crucial component of his artistic expression. Several years ago, Milton bravely abandoned his previous medium to explore the potentialities of working purely in a photographically digital medium. The results have created a body of work with a luminosity and depth unseen in his earlier work. The finest of these are represented by his series of light boxes.
Peter Milton is no visual minimalist. On the contrary, Milton fills his compositions like a film director fills the screen in a celluloid epic whether it be the scene of an artist's studio with photographic collages of Sarah Bernhardt and Alphonse Mucha; movie sets with Federico Fellini and Ingmar Bergman; or a Parisian street scene with the photographic faces of Eugene Atget, Jacques-Henri Lartigue, Alfred Stieglitz, Brassai, and Henri Cartier-Bresson melded into the composition.
Milton's rich operatic amalgamation of photographic and cinematic imagery fused with his deft draftsmanship finds its finest expression in the luminosity of his light boxes. The back lighting creates an otherworldly glow and the scale is in keeping with the majority of video art installations. In short, they demand attention.
Now in his seventh decade working as an artist, Peter Milton has shaken off his earlier persona. Using the combination of his accumulated artistic skills with his ever curious imagination, he has produced a stunning new body of photography based contemporary art that is hard to define yet relentlessly compelling to experience.
Robert Flynn Johnson
Curator Emeritus, Achenbach Foundation for Graphic Arts
Fine Arts Museums of San Francisco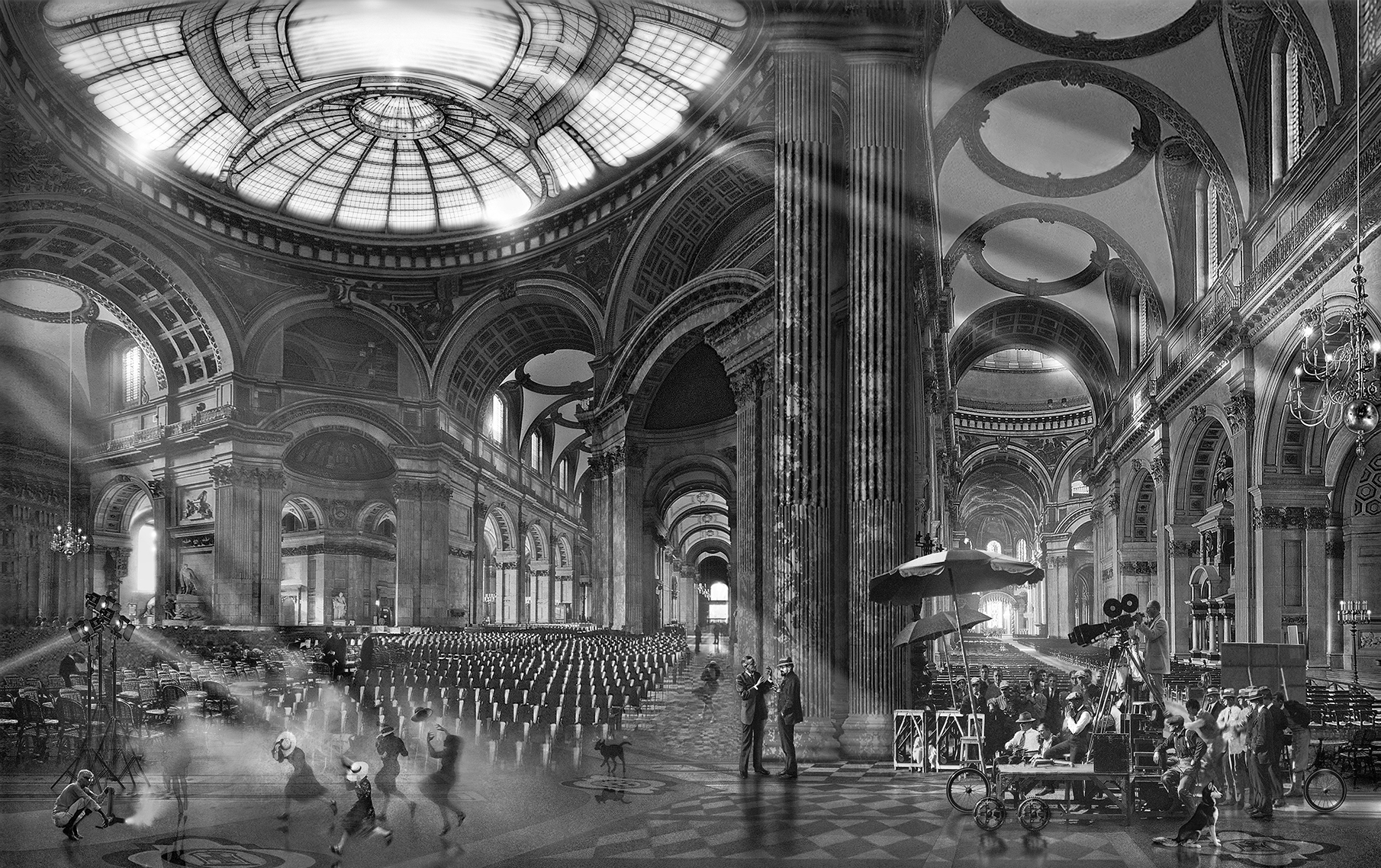 "I suppose what I am really working toward is a four-dimensional articulation — where images juggle with the time continuum as part of the enigma."

- Peter Milton
Peter Winslow Milton (1930) is a major force in the printmaking world. He was born in Lower Merion, PA. He studied under Josef Albers at Yale University, where he graduated with an MFA in 1961. Milton began his artistic life as a painter, but by the mid 1960s his color blindness suggested that giving up paint and color for texture might prove a happier course. He has taught at Yale and the Maryland Institute of Art, served as visiting artist at Dartmouth, Columbia, Yale, and the Rhode Island School of Design, as well as many other schools, and has been honored by awards at international exhibitions including Cali, Seoul, Lvov and Cracow.
Milton has created works on images for two novellas by Henry James: the livre d'artiste of etchings for "The Jolly Corner" (1971) and the facsimiles of drawings for "The Aspern Papers" (1993). Using etching and engraving techniques, Milton developed a concern less for the surface appearance of objects, but rather for the explication of their underlying, substantive qualities. Milton conveys meaning through a contextual environment of people, places, and moments in time. A creator of black and white etchings and engravings that often display an extraordinary degree of photo-realistic detail placed in the service of a truly visionary aesthetic, Milton's work includes themes of architecture, history, myth, and memory, as well as their intersections and hidden juxtapositions.
His work has been exhibited in most major museums in the United States and Europe, including the Metropolitan Museum of Art and the Museum of Modern Art, New York, the British Museum and the Tate Gallery, London, and the Bibliothèque Nationale, Paris. Two book collections of his work have been published: "The Primacy of Touch: The Drawings of Peter Milton" (New York: Hudson Hills Press, 1993) and "Peter Milton: Complete Prints" 1960-1996 (San Francisco: Chronicle Books, 1996). Peter Milton resides in New Hampshire. The Academy Art Museum has six prints by Peter Milton in the Permanent Collection. The exhibition was made possible with support from Jane Haslem in Washington, DC and The Old Print Shop in New York.
Anke Van Wagenberg
Senior Curator, Academy Art Museum